Welcome to the SOTS, the State of the Spoiling, where we try to compile a one stop shop with all the facts delivered through the week, so we can make the most accurate prediction as to the unfolding events of the current episode. In the immortal words of Colleen Haskel, Season One, "Be nice and play fair"! For this SOTS, I will post my thoughts in red!

This week our title for episode 14 is:

Itís a Fickle Fickle Game

This is most likely Mike, as he ponders how heís done so far in the game and heís noting that it could change on a dime, or it could be him trying to encourage Mama C, or it could be Mama C pondering her chances to move beyond the first TC?

MISDIRECTION CLUES
First of all, in the Title, tweets, and teases thread, located here, CTGirl has posted a lot of Jiffy quotes. To sum it up, Jiffy says that Mike still has his back against the wall and will anyone want to team up with him? Surprisingly, YES, someone will want to team up with Mike! Carolyn could win with a good argument, he would be happy to see Rodney plead his case, but Sierra needs to make a big move still, and Will is a long shot. Meanwhile he moves right along into the hype for S:31. *Not a good sign.*
The official teases by CBS are:
1. One castaway will be crowned the winner and take home the million dollar prize....duh.

2. Emotions run deep when castaways receive a surprise visit from their loved ones.
We see they are gathered at a challenge and they all get to at least hug their loved ones...Carolynís husband, Willís wife, Rodneyís Dad, Mikeís Mom, Sierraís Dad. Brings a tear to Jiffy's eye...he always loves the love!<3
Vidcaps
*I really like putting them in chronological order to create the timeline*.
The preview promo begins with some shots of the sun super imposed over the HII with the scorpion on it. Some speculate that perhaps someone will find another HII, or else it could just represent that they are coming off TC where one was played.
Upon returning to camp after TC, we first see Rodney, incredulous, asking Mama C why she didnít tell them that she had the HII? Then, she turns it on the rest of them, YOU ALL VOTED FOR ME!
The next AM, we have this shot, I think it is the morning after the TC from the last cycle. We see Mike giving Carolyn a pep talk: Keep your head UP! Her hair is still in the braid...
RC at F5 ~ Loved Ones
Next, they line up and march to the next RC, smiles on their faces, as they most likely suspect from Tree Mail that loved ones are near!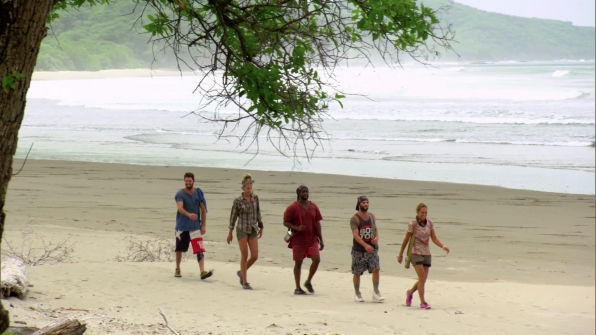 Carolyn's husband:
MIke's mom:
Sierra's dad:
Rodney's dad:
And, Will's wife:
It all brings a tear to Jiffy's eye: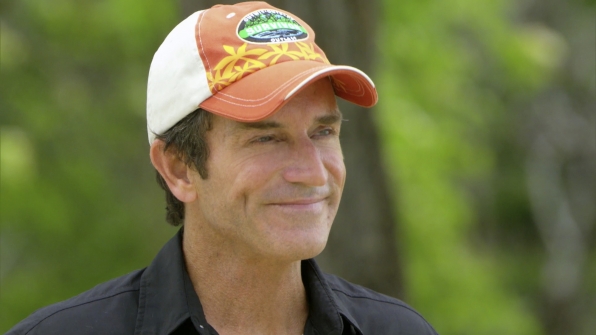 Now let's get to the actual challenge. It's a long, physical challenge where they must collect various tiles...here's the field:
Sierra and Rodney collecting tiles and then shooting them into a slot. We see this structure in the pics of the entire field above.

We can see that Rodney is purple, Mike is teal blue, Sierra is red, Mama C is yellow, and Will is royal blue. Just pointing out that Carolyn's hair is still in the braid.
From the looks of it, Carolyn and Will are not winning, which means that one of Sierra, Rodney, or Mike does win.
Back at camp after the RC is over we have some nice bonding shots where they are most likely being nostalgic...One in particular stands out to me....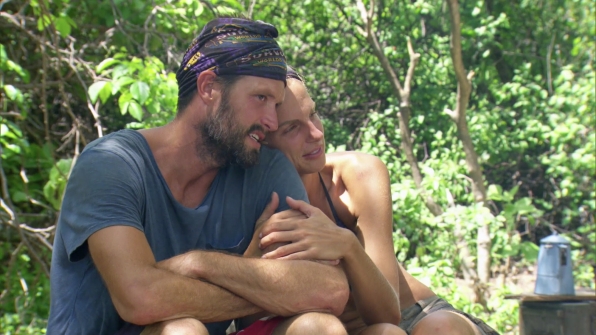 I suspect that Mike may win the RC, but chooses to give up his time with his loved one so others can have their time. Sierra is loving on Mike. Maybe he even let Rodney have his reward....And, I wouldn't be surprised if Carolyn and Will got their time as well.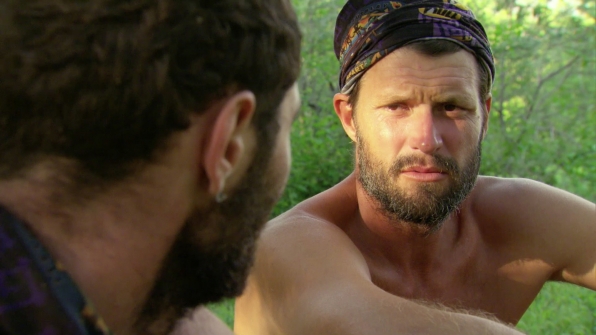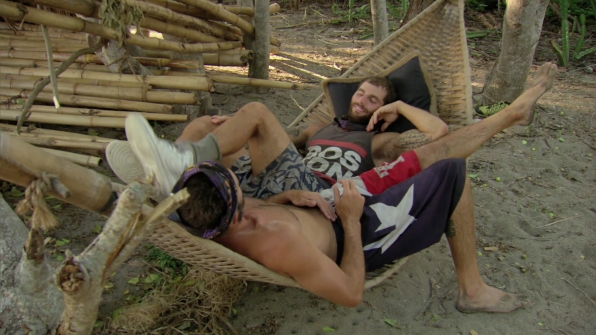 F5 Immunity Challenge
Here they are upon arrival, we see the post for the IN next to Jiffy, and note what he's wearing.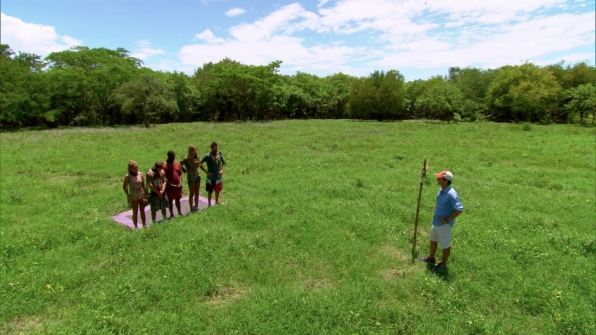 Carolyn's hair is in a high ponytail now, and Sierra's is down.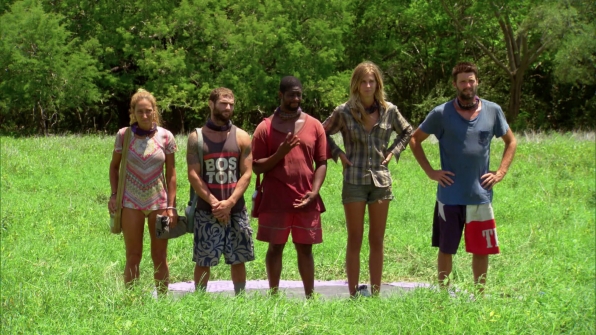 Here is the challenge field:
And, shots of them at the start and within the challenge(Sierra pulls her hair back into a low ponytail for the challenge):
Then we have shots post challenge, most likely...Note that Carolyn's and Sierra's hair, down and then up in a ponytail...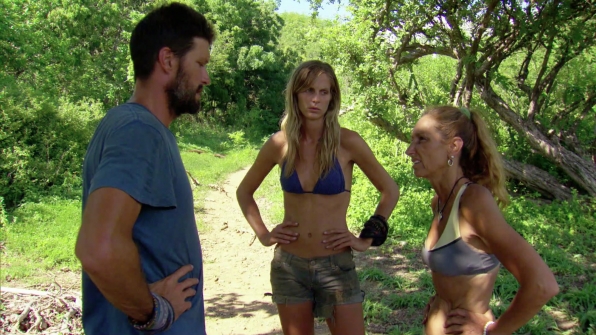 So, who wins? I think that Mike WILL win this one. He's likely moving so much faster than the rest of the field.
So, onto TC, F5 is voted out. Safe: Mike, Carolyn, Will. Boot: Sierra or Rodney
Now, who would you vote if you were Mike and Carolyn. They asked Will to be with them last episode, but he reneged. Mike also told us last episode that he wanted to beat Rodney. Who has the best case for an argument should they reach the jury? I still say Rodney. Rodney had the plan, Rodney put the alliance together. Rodney has a case, in my humble opinion. I think Mike will keep Carolyn, he still needs numbers and she is probably solidly with him at this point. Sierra has no case to win in front of the jury. We saw in the early game that she didn't like Rodney, but week after week, she stuck with him. I think Sierra may make a deal with Mike and Carolyn that if she sticks with them, they will all be the F3, or something like that. I think that Rodney may get to go on a reward at long last, one with his dad, and then I think Rodney will go home.
F4 Immunity Challenge
Here is the video of the final IC, "Final Fortitude", here.
Here are shots from the final F4 challenge, it's a big physical challenge, involving water slides, collecting bags of puzzle pieces, and climbing stairs multiple times, climbing structures and sliding down poles, ending with building a lighthouse puzzle.
Mike is yellow:
Carolyn is red:
Will is blue, Note Carolyn going up the steps behind Will:
The person we don't see is most likely orange. I think this type of challenge clearly favors Mike, BUT, will he win it?
They go to TC and someone is voted off. Who will it be? Well, the next morning, before final tribal, we have this:
Outsider was the first one to identify the torches as 2 Blue's and 1 White collar. Sheldor confirms it with his pictures for comparison. You could argue that this shot is staged, but CBS has done this in the past and it's been dead on right. Especially in Brains, Brawn, Beauty. So, I am going with 2 Blues and a white in the F3, Why not?!.
Since F4 = Mike, Carolyn, Will, 1 unknown Blue = 2 Blues, 1 White, 1 Red
F3 = 2 Blues, 1 White
= Will is booted at the F4 TC.
F3: Mike, Carolyn, 1 unknown blue (Sierra/Rodney)
RESULTS
Before noting the results there is one picture that we have to make a decision on. It's this one...
This picture is probably where Mike feels he's made a million dollar mistake. I think he loses the F4 IC. At first I thought it must be the F5 IC, but the background in this shot, doesn't match the field location of the maze. This background makes me think it's the F4 IC. His shirt is wet. Just when Mike fears he's done, I think Carolyn feels some loyalty to Mike, for having saved her. Carolyn decides she cannot throw Mike to the curb.
F5 RC Winner: Mike
F5 IC Winner: Mike
F5 Boot: Rodney/Sierra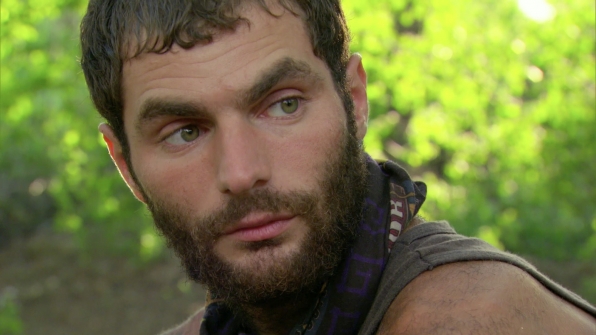 F4 IC Winner: Carolyn
F4 Boot: Will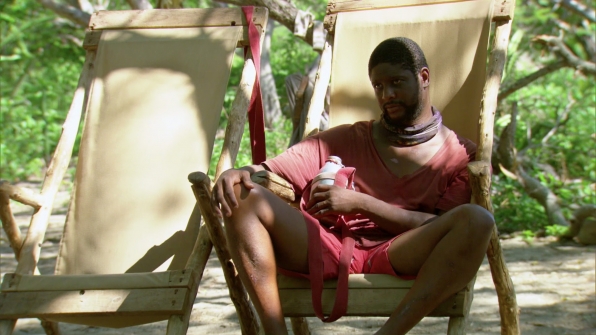 F3: Mike, Carolyn, Sierra/Rodney
WINNER:
Mike Holloway
If Mike and Carolyn get together and have a heart to heart talk, they could decide to keep the most deserving players to win the prize, therefore deciding to boot out Sierra and Will, guaranteeing that someone that "played" the game will win the prize. They could propose this to Rodney? I think that would be a very fitting ending!

This is my take on the finale. Tribe will be along soon to add his take on the finale for a she said, he said! Thanks everyone that still finds the time to play with us as we seek, week after week, to find the answers before they air!