LAST EDITED ON 12-15-15 AT 05:08 PM (EST)




STATE OF THE SPOILING SURVIVOR 31: Second Chances
Welcome everyone to yet another attempt to re-vitalize Survivor Blows STATE OF THE SPOILING, where we try to collect all the data from around the boards to spoil the episode before it airs. Please feel free to digest, support, or refute, but always remember to BE NICE AND PLAY FAIR!
After Joey Amazing dropped in the IC, Spencer and Jeremy were both given credit for voting with the "girls" to make it happen. But, Tasha was not getting the love and respect that she deserved and decided that Jeremy does NOT have to be in control the whole time and it's her turn to make a move, and you peeps better get on board because the Fox train is leaving the station! Wentworth played a little bit of violin, it's been hard for me, haven't had an alliance, but in the end, I do need someone, anyone? She just wants to make it to the F3, while Jeremy just wants to get to tell the jury why he deserves the $. Keith thinks he's on the big easy street with his new BFF's Kelley and Spencer. Kimmi, who? But, in the end, Sir Young Lad votes to stick with the more deserving players and goes against his DREAM GOATS, Abi and Keith, and votes out the villainous, Abi-Maria GOMEZ. Who will be voted out next? The title of our finale episode is:
Let's first explore the
MISDIRECTION CLUES
Brought to us by CTGirl, here.

Jiffy teases us that The finale is … phenomenal. Historic. Unpredictable. And ultimately satisfying. He thinks that it's one of the best seasons ever and they all GO BIG!

1. Six castaways battle it out for a shot in the final three. Duh.

2. A shocking tribal council delivers a Survivor first Because of the verbiage, we know that this shocking Survivor first will occur before the Final Tribal Council when the F3 make their final case to the jury.

CTGirl and Rembrandt were the first to suggest that it's possibly a case where the two HI's are played on the vote getters and the votes are null and void, so there will be a revote. This would indeed be a Survivor first!

3. Later, the final three castaways plead their cases for the $1 million prize. Another, duh!
VIDCAPS
Not much in the Vidcap category this week...
Here the Daws are arriving at a challenge, we see the F6:
The F6 challenge is the one that they did in S: Redemption Island, and Robfadda won it...
Before we get to the conclusions, I thought it would be PHUN to take a walk down memory lane, our own little
FALLEN COMRADES tour....
The early season could be broken down into:
Terry and Vytas exemplified the old school:
Takeo:
Varner ~ <3
Bayon:
Challenge fails:
Delicacies:
Savage: Always fitting in...
One of our bigger conflicts:
Fish ~ A Fishbach out of water...
Joey Amazing aka JOGA ~
Abi-Maria aka Villains have more fun! ~
Keith...spit ~
Kimmi (?) ~
Kelley ~
Tasha ~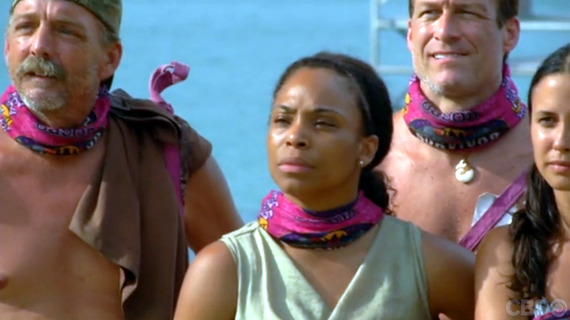 Jeremy ~
Spencer ~
The Story
The story covers~
and...
and, it all takes place in....
They begin the episode with Kelley telling us how you can't trust anyone....the night before she and Keith were blindsided when Spencer reneged on his word and voted with Tasha and Jeremy to send the witch, Abi-Maria, packing.
They march on to the F6 TC, where they recognize it from the F7 in Redemption Island when Robfadda carried his family on his back and almost collapsed at the end to win it....
The DAWS start on Jiffy's go, untie step planks that have hole patterns on them, then must carry one step at a time to the corresponding step on the structure. If they have the wrong plank, they must go down again to get the right one before moving on. Once they have completed their 18 steps, they must solve a cool slider puzzle.
At this point, Keith is behind Jeremy (red) and Spencer (yellow).
I wouldn't be surprised to see Jeremy beat Spencer up the steps, but Spencer wins it with the slider puzzle...Let's just hypothesize that Spencer wins it!
Here is Kelley after the IC, knowing that she's in trouble, as Spencer had moved beyond the point of no return with Tasha and Jeremy, against her and Keith...
After the challenge, Kelley takes a nap or goes for a walk and the plotting begins...
Kimmy has a plan, which she tells Keith...
They would not expect it!
Her plan may involve voting Jeremy but telling them something else, like I am with you three to the end, and then voting against "them". She told us...
I am gonna go full force!
She then spins her web to all parties...
Kelley is happy that at least they have a plan! But, she recognizes...
...you can't trust anybody!
They march to TC, where Jiffy tries his best to antagonize them all. They vote, most likely Jeremy/Spencer/Tasha all vote for Kelley, believing that Kimmi is with them, then Kelley/Kimmi/Keith all vote for Jeremy. Jiffy asks before the votes are read, If anyone has a hidden immunity idol and would like to play it, now is the time to do so.... First, Kelley stands up and does play hers, then Jeremy stands up and plays his.
For the first time in 31 seasons....we have a tie, and that tie cancels out both vote getters. We must revote! You canNOT vote for Spencer, Jeremy, or Kelley! On the revote, Jeremy/Spencer/Tasha/Kimmi vote Keith, while Kelley/Keith vote Tasha. Keith is our F6 boot...
F6:
The next morning Kelley is thrilled that she is still here but notes...
Now it's all about staying alive!
I believe that either Kelley or Spencer will win the F5 IC. The only way Kelley stays alive in this game any further at this point is if she wins the IN. It could happen. Here we have Jeremy and Spencer arguing about giving in....
You won't give. You're not giving!
You're not either!
Whomever wins this argument, may indeed be the WINNER of Season 31! They are fighting about directing the boot, most likely!
So, at F5 and F4. I think that Jeremy makes it to the end IF he wins the last IC. So at F4 IC I pick Jeremy to finally win it. We know that that challenge is Simmotion. JT won it, and I believe that this was the challenge that Keith got an advantage in and may have won?
F5 IC winner: Kelley or Spencer
F5 Boot:
Kimmi~
OR...
Kelley~
F4 IC winner ~ Simmotion ~ Jeremy
F4 Boot:
Kimmi OR Kelley
F3:
Tasha ~
A million dollars is on the line!
Jeremy ~
I gotta win!
Spencer ~
I have to complete my second chance journey.
This season the DAWS have been talking about their Survivor resumes. It's all about making big moves to put on those resumes, so I expect the jury will want to see and hear about the big moves they made in this game. With that said I think TASHA will be our F3
Our F2 will be Jeremy and Spencer. Jeremy had a plan, to surround and drown, and to surround himself with the big alpha shields, Joe, Savage, and then have some that would run to him and tell him everything; Stephen, Tasha, Kimmi, keeping himself hidden within the troops. His sole motivating factor is the love of his family, Val, the kids, and the new son on the way. He found 2 idols and played one on his BFF, Stephen. (Which WILL likely buy him one vote in the jury!) Jeremy has stayed off the radar despite being a physical guy because of his stellar social game.
Spencer, otoh, was on the losing tribe and had to go to TC far more times than Jeremy. He got a second chance in the second chance season to change his ways, when Shirin was voted out. The second chance season has been told to us through the eyes of Spencer, imho. We saw him recognize his critical mistakes and then work hard to rectify them and he awkwardly tried to build relationships. He confided he hadn't told his GF, I love you, and he tried experiencing Survivor at it's finest and caught his first fish, *strike that*, er, crab. We saw at the Family visit, he did grow and change, and told his GF, I love you!. When he came to Bayon, he was able to ingratiate himself and let others do the driving, then when it came time, he took over the controls. We see at the end, that Jeremy and Spencer are arguing over who gets to drive. Well this is the pivotal question and could spell out our winner. But, the last episode, we saw Spencer choose to stay with the big dog movers and players, Jeremy and Tasha, and not go with this dreamgoats, Abi and Keith. This sheds DOUBT on his win!
At the end, we know our WINNER will pull out his check list and resume of big moves to present to the jury...
In the end, following the editing and confessionals, I believe that the star of this season has been Spencer. For all intents and purposes he exemplifies the second chance in the second chance season. If I had to choose on the past alone, I would indeed choose SPENCER as our winner.
But, in order to win you have to sell the jury and that could be very hard with a primarily Bayon stacked jury. When I examine how I think each jury member will vote, this is how it stacked up. Something to note, Spencer has done more betraying...
Kass(Bayon): Spencer. Just cannot see her voting for Spencer, BUT, Spencer went along with her plan and didn't betray her. Where as Jeremy was always with her nemesis' Savage and Tasha.
Savage(Bayon): Jeremy I see him voting over Tasha, as I look at him as a male chauvinist of sorts. If he doesn't vote for Jeremy, he will vote for Tasha.
Kelly(Takeo): Kelly was with Spencer more and I think will vote for Spencer, BUT, she was with Savage and Joe, and may be swayed by Savage to vote Jeremy?
Stephen(Bayon): Jeremy. That's a sure thing!
Ciera(Bayon): ?? She was with Jeremy and Tasha far longer than Spencer, but on opposing sides. She was against Savage who was with Jeremy and Tasha, so I see her voting for Spencer, along with all the witches.
Joe(Bayon): Spencer. While Joe was with Jeremy for a lot longer and a part of his alliance, it was Spencer that saved him, and orchestrated the Stephen boot, and allowed him to see his father during the Family visit reward. Joe appreciates winning challenges and Spencer has dominated once Joe left.
Abi(Takeo): She remarked that Spencer was a slime ball of some sort, but I think she will vote Spencer because the other witches will, and she will feel that Spencer is the one that blindsided her.
Keith(Bayon): He chose Spencer to go on the reward with him, and Spencer betrayed him leading to his boot. He could be swayed by Joe's opinion on the jury, but I think he will vote for Jeremy.
Kimmi(Bayon): Jeremy
Kelley(Takeo): Spencer. Witches will all vote Spencer. Kelley appreciates game play and sees that Spencer was on the bottom far longer, and without any HII's. He's the one that flipped the game to Jeremy/Tasha, and led to the demise of Kelley, Keith, and Abi.
I get 6 votes Spencer, 4 votes Jeremy. Spencer was more the underdog than Jeremy was and had to make moves to stay alive from the bottom to the top. In this season of all-stars, I think they will appreciate Spencer's underdog status. But, it could be a tie...Wiggle? If it's a tie, I have heard that the third place voter votes, and if that is the case, Jeremy will be the winner.
F2 ~ Jeremy Collins ~
This season the star of the show and WINNER of S:31, Second Chances will most likely be, the YOUNG LAD, Spencer Bledsoe ~
*Regardless of the winner, it was a superb season with lots of game play and big personalities! I think both Jeremy and Spencer are deserving. The fact that I usually bomb out on picking the winner, makes me think this should be no different. But, from the season that I have seen, and after examining it all, I feel good about a Spencer win!
Don't forget to vote! See you next season!

PS. Here are before and after shots of our F6...